The Sebastians present "Orfeo del violino"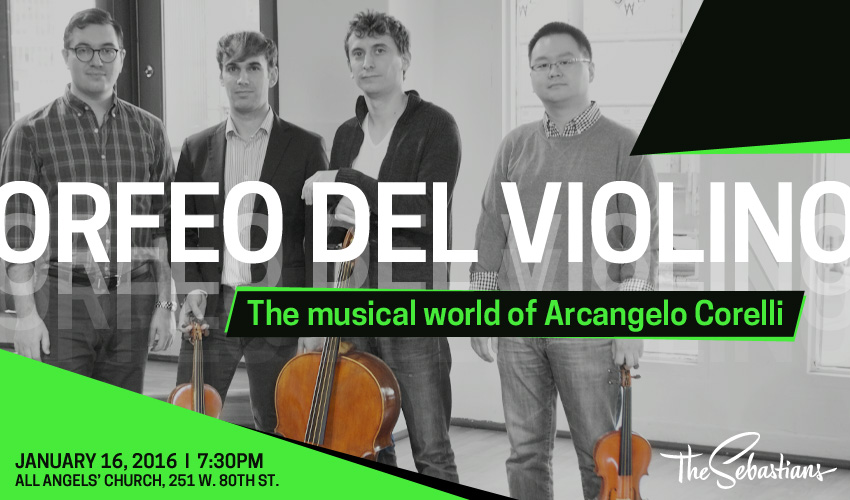 January 16, 2016, 7:30pm
All Angels' Church, 251 West 80th Street (map)
Arcangelo Corelli was one of the most gifted, influential, and popular composers of the baroque, bringing a new level of virtuosity and expression to violin playing. Our next All Angels' concert brings you into the musical world of this great master via his older Roman compatriots Lelio Colista, Girolamo Frescobaldi, and Alessandro Stradella.
The intimate All Angels' Church is the perfect venue for the Sebastians core musicians—Daniel S. Lee and Nicholas DiEugenio, violins; Ezra Seltzer, cello; and Jeffrey Grossman, harpsichord—to treat you to a gorgeous renditions of Italian music for two violins, cello, and harpsichord. Don't miss it!
$40 General, $35 Seniors (65+), $15 Students (with valid ID)
Program
Arcangelo Corelli (1653–1713)
Trio Sonata in F major, op. 3, no. 1 (Rome, 1689)
Alessandro Stradella (1639–82)
Sinfonia no. 21 (Turin; Modena, 1682)
Giovanni Battista Fontana (?1589–?1630)
Sonata no. 15
from Sonate a 1. 2. 3. per il violino,… violoncino o simile altro istromento (Venice, 1641)
Girolamo Frescobaldi (1583–1643)
Toccata terza
from Toccate e partite d'intavolatura di cimbalo… libro primo (Rome, 1615)
George Frideric Handel (1685–1759)
Trio Sonata in G minor, op. 2, no. 2, HWV 387
intermission
Arcangelo Corelli
Trio Sonata in A minor, op. 4, no. 5 (Rome, 1694)
Lelio Colista (1629–80)
Trio Sonata in C major, W-K 13
François Couperin (1668–1733)
Le Parnasse ou l'Apothéose de Corelli, grande sonade en trio
from Les goûts-réünis (Paris, 1724)
Arcangelo Corelli
Sonata in G major, op. 2, no. 12: Ciacona
from Sonate da camera a tre (Rome, 1685)
Program may be subject to change.
---
Note: All Angels' Church unfortunately does not have an elevator and is therefore only accessible by stairs. Please contact us for more details or for a list of handicapped-accessible events.