In this tribute to the famous Vingt-quatre Violons du Roy at the height of its powers, the Sebastians juxtapose Bach's Overture in the French Style with music for the famous orchestra.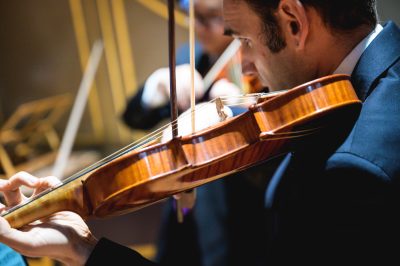 The "24 Violins" was the official string band for France's court at Versailles. It was so alluring that the British court copied its five-part structure almost immediately. The distinctive sound of the orchestra came from the way the parts were distributed, with three inner lines played by different sizes of viola, and with the outer parts (the melody and bass) weighted more heavily. On top of that, every member of the band was impeccably credentialed; for its time, it seems like it must have been an incredibly disciplined ensemble.
We have gathered our largest ever group of strings to try to reimagine the sound of this magnificent ensemble, performing music by Jean-Baptiste Lully, who was famous as Louis XIV's maître de musique. Lully is generally considered the inventor of the French overture, which was the two-part musical structure used to open his operas.
In 1735, almost 50 years after the death of Lully, Bach published his Overture in the French Style for harpsichord. Often called the French Overture, the suite opens with a large piece in Lully's overture form: a slow section filled with jerky dotted rhythms and ornaments, followed by a fast fugal section filled with contrast. The rest of Bach's "Overture" is filled with dance movements, and not the traditional variety. The Sebastians will intersperse the movements of Bach's work with Lully's music for his own orchestra, drawing a line from one country and time period to the other.
Program
Jean-Baptiste Lully (1632–87)
Selections from:
Le triomphe de Bacchus dans les Indes, LWV 30 (1666)
La grotte de Versailles, LWV 53 (1668)
Le bourgeois gentilhomme, LWV 43 (1670)
Cadmus et Hermione, LWV 49 (1673)
Atys, LWV 53 (1676)
Armide, LWV 71 (1686)
Achille et Polixène, LWV 53 (1687)
Johann Sebastian Bach (1685–1750)
Ouverture nach Französischer Art, BWV 831 (1733, rev. 1735)
Performers
Dessus de Violons, Hautes-contres, Tailles, Quintes

Nicholas DiEugenio
Aniela Eddy
Daniel Elyar
Annie Garlid
Peter Kupfer
Isabelle Seula Lee
Daniel Lee
Francis Liu
Vivian Mayers
Maureen Murchie
Rebecca Nelson
Rose Nelis
Theresa Salomon
Alissa Smith
Edson Scheid
Jessica Troy
Shelby Yamin
Jude Ziliak


Violoncelles, Violes de gambe, Basses de violon, Basse continue

Nathaniel Chase
Adrienne Hyde
Ana Kim
Cullen O'Neil
Ezra Seltzer
Nathan Whittaker
Wen Yang


Percussions

Rex Benincasa


Théorbe

Adam Cockerham


Clavecin

Jeffrey Grossman


Safety and COVID-19
The safety of our performers, staff, and audience are of the utmost importance to us. As the COVID-19 pandemic continues to evolve, we will closely monitor local conditions as concerts date draw near. We reserve the right to require proof of vaccination, masking, and distance inside the concert hall. We will announce our safety procedures for each concert in advance of the performance date.
By purchasing a ticket and attending a concert, you acknowledge that despite all reasonable precautions, there are risks in attending live musical events and you agree to accept those risks yourself. You release the Sebastians (legally, Sebastian Chamber Players, Inc.) from any claims based on your attendance of one of our concerts. Your in-person concert ticket grants you access to the virtual concert experience—available shortly after the performance. If you have any questions or need assistance, we are always reachable at music@sebastians.org.
Performer Bios
Rex Benincasa has been a freelancing drummer and percussionist in New York since 1978. Along with hundreds of television/radio soundtracks and commercial recordings, he has performed with the Concordia Chamber Players, BaBan Chinese Music Society, Eurasia Consort, Apollo's Fire, Ensemble Caprice, Alba Consort, Flamenco Latino, Carlota Santana Spanish Dance, Andrea Delconte Danza Espana, Zorongo Flamenco Dance, Pilar Rioja, Amanecer Flamenco Progressivo, the Sacramento Ballet, Ballet Austin, the Washington Ballet and the Merce Cunningham Dance Company. Broadway shows include Fosse, Elaine Stritch, The Full Monty, Flower Drum Song, Man Of LaMancha, Never Gonna Dance, Little Shop of Horrors, The Frogs, Dirty Rotten Scoundrels, All Shook Up, Hairspray, The Drowsy Chaperone, Curtains, The Color Purple, How The Grinch Stole Christmas, Shrek, In The Heights, Billy Elliot, Bring It On, Peter and the Starcatcher, Motown the Musical, and Mrs. Doubtfire. Rex likes all kinds of music.
Bassist Nathaniel Chase performs a wide range of music, from period performance with the Sebastians, Trinity Baroque Orchestra and Early Music New York, to orchestral repertoire with the Riverside Symphony and Allentown Symphony, and new music with Ensemble LPR and Ensemble Échappé. He performed on Broadway in the critically acclaimed production of Farinelli and the King with countertenor Iestyn Davies. He is a graduate of the New England Conservatory and the Yale School of Music, where he was a winner of the 2010 Woolsey Hall Concerto Competition.
Early music artist Adam Cockerham specializes in theorbo, lute and baroque guitar. Beginning his performance career as a classical guitarist, he then gravitated toward historical plucked strings, preferring the collaborative opportunities of chamber music from the sixteenth through eighteenth centuries. As an accompanist and continuo player, Cockerham has performed with numerous ensembles in New York and San Francisco. Beyond chamber music, Cockerham concentrates on seventeenth-century Italian opera and has been involved in numerous modern world premiere performances with companies such as Innsbrucker Festwochen der Alten Musik and Ars Minerva. Cockerham received his doctorate from the Juilliard School where he was awarded the Richard F. French Prize for outstanding work on a doctoral dissertation.
Violinist Nicholas DiEugenio 's colorful playing is lauded for its "rapturous poetry" (American Record Guide), and as "excellent" and "evocative" (The New York Times). A joyous, inspired, edgy, and visceral artist, Nicholas leads a versatile performing life as a leader, chamber musician, and soloist in music ranging from early baroque to current commissions. His award-winning album, Unraveling Beethoven , with pianist Mimi Solomon was released in 2018 by New Focus Recordings. Other recordings include The Complete Violin Sonatas of Robert Schumann (Musica Omnia) as well as a tribute to Pulitzer prizewinner Steven Stucky (New Focus). Nicholas is a core member of the Sebastians as well as Associate Professor of Music at UNC Chapel Hill. nicholasdieugenio.com
Aniela Eddy's broad and varied interest in music of all eras has led to projects spanning the baroque through contemporary time periods. Recent and upcoming collaborations include performances with Apollo's Fire, TENET, Philharmonia Baroque Orchestra, Handel and Haydn Society, Voices of Music, as well as festival appearances at the Göttingen International Handel Festival, Carmel Bach Festival, Lucerne Festival, Caramoor, Ravinia, and Caroga Lake festivals. Aniela has appeared live on NPR with A Prairie Home Companion and Garrison Keillor. She is a founding member of Quartet Salonnières and a graduate of the San Francisco Conservatory of Music, Cleveland Institute of Music and The Juilliard School.
Daniel Elyar is an active performer and recording artist and has specialized in baroque performance practice in Europe and North America for thirty years. Daniel has performed and recorded with ensembles in North America and Europe such as Tafelmusik, the Utrecht Baroque Consort, Concerto d'Amsterdam, Teatro Lirico, Concerto Palatino, Les Arts Florissants, the Boston Early Music Festival Orchestra, Vox Luminis, the New York Collegium, The King's Noyse, The Newberry Consort, Ensemble REBEL (NYC), NY State Baroque, Tempesta di Mare, Washington Bach Consort, the Bach Festival of Philadelphia, Clarion Players and Choir (NYC) and the Trinity Baroque Orchestra on Wall street. Daniel is happily a founder member of the Franklin Quartet, the Delaware Valley's only Period Instrument string quartet. Daniel has taught for twenty years at the Settlement Music School in Philadelphia and is full-time faculty staff. From 2014 to 2016 Daniel directed the Renaissance Collegium at Temple University. Daniel holds a Bachelor of Music from the Cleveland Institute of Music, and Artist's Diploma from the Sweelinck Conservatory (Amsterdam) and a Masters of Music from the Royal Conservatory (the Hague). Some of Daniel's teachers are Heidi Castleman, Sigiwald Kuijken, Lucy van Dael, Elizabeth Wallfisch and Monica Huggett. Daniel has performed under the baton of directors as Andrew Parrott, Gustav Leonhardt, Ton Koopman & William Christie. Mr Elyar has recorded for Chandos, Naxos, ELECTRA, ATMA, Musica Omnia – for which he was nominated for a Grammy for his work – and Hungarton labels.
Annie Garlid studied English at Smith College, viola performance at New England Conservatory, baroque viola at the Hochschule für Musik in Cologne, and ensemble singing at the Schola Cantorum in Basel. As a viola player and singer, she is most interested in early and contemporary music. She has collaborated and performed with composers and artists such as Holly Herndon, Caterina Barbieri, Bill Kouligas, Emptyset, Nile Koetting, Cat Lamb, Marc Sabat, and Rosemarie Trockel. Ms. Garlid has played viola with the Handel & Haydn Society, Tafelmusik, De Nieuwe Philharmonie Utrecht, the Nederlands Bach Society, the WDR Orchestra, and the Lucerne Festival Academy under the batons of Pierre Boulez, Masaaki Suzuki, David Robertson, Peter Eötvös, Kristian Bezuidenhout, Bernard Labadie, and Harry Christophers. She makes her own electronic music under the moniker UCC Harlo and is currently a PhD candidate in musicology at NYU.
Keyboardist and conductor Jeffrey Grossman specializes in vital, engaging performances of music of the past, through processes that are intensely collaborative and historically informed. As the artistic director of the Sebastians, Jeffrey has directed Bach's Passions and Handel's Messiah from the organ and harpsichord, and he is a frequent performer with TENET, the Saint Paul Chamber Orchestra, and numerous other ensembles across the country. Recent seasons include his conducting operas of Haydn and Handel with Juilliard Opera, leading Monteverdi's Vespers with the Green Mountain Project in New York and Venice, and conducting a workshop of a new Vivaldi pastiche opera for the Metropolitan Opera. A native of Detroit, Michigan, he holds degrees from Harvard, Juilliard, and Carnegie Mellon University. Jeffrey teaches performance practice at Yale University. jeffreygrossman.com
Adrienne Hyde is a multi-instrumentalist specializing in historical performance practices on the cello and viola da gamba. She performs regularly in the NYC area as a member of various continuo sections playing the baroque cello, bass viol, lirone, and bass violin. She graduated from the Eastman School of Music in 2020 and now is completing her Master's degrees in baroque cello and viola da gamba at the Juilliard School on full scholarship. At Juilliard she is a Morse Teaching Artist, a Music Advancement Program Fellow, and a Gluck Community Service Fellow, through which she teaches in NYC public schools and mentors young cellists, and provides musical service to her community. She has studied with renowned pedagogues Alan Harris, Christel Theilmann, Paul O'Dette, Sarah Cunningham, Phoebe Carrai, and William Christie. This summer she joined the Carmel Bach Festival as a Young Artist performing in a string quartet focused on the study of classical and romantic period performance practice with the Diderot Quartet and Peter Hanson, concertmaster of Orchestre Revolutionnaire et Romantique. In the 2022–23 season she performs with American Baroque Orchestra, Trinity Wall Street Baroque Orchestra and Philharmonia Baroque Orchestra, and will appear with Repast Baroque, the Sebastians, and in recital at the Helicon Foundation. She is a passionate artistic administrator for the Valissima Institute, a conducting training program for young women committed to gender equity in classical music.
Indiana-native Ana Kim is a cellist based in New York, who performs on modern and historical instruments. She plays with various ensembles, including Philharmonia Baroque Orchestra, American Classical Orchestra and Boston Baroque. Ana has participated in festivals such as Oregon Bach, Yellow Barn, Verbier Academy, Music@ Menlo, and International Musicians Seminar at Prussia Cove. She has received a Doctorate at the University of Southern California and has studied Historical Performance at Juilliard. Her teachers include János Starker, Ralph Kirshbaum, Laurence Lesser, and Phoebe Carrai. As an educator, Ana has taught in Music Festival of Santa Catarina in Brazil, and has participated in outreach residencies with Kneisel Hall Festival in Maine and the American Classical Orchestra's Classical Music for Kids. She has taught at Pacific Union College and is currently teaching at the Browning School in New York City.
Following graduate studies at the University of Michigan, Peter Kupfer returned to his native California, where he performed with Philharmonia Baroque Orchestra, among other early music ensembles. He has also played with American Bach Soloists, American Classical Orchestra, Apollo's Fire, Aulos Ensemble, Handel & Haydn Society, Opera Lafayette, Smithsonian Chamber Orchestra, Tafelmusik, Trinity Wall Street, and Washington National Cathedral, and he was concertmaster for Bach Vespers at Holy Trinity Lutheran Church for fourteen seasons. Festival appearances include Berkeley Early Music Festival, Monterey Jazz, Aston Magna, Mostly Mozart, Edinburgh, and the Maggio Musicale festival in Florence. Peter plays violin by Pieter Rombouts (Amsterdam, 1713); viola by Visseltear & Young (New York, 2004).
Praised for his "soulful performance" (The New York Times), violinist Daniel S. Lee appears as a soloist, leader, and director. He is the founding director of the Sebastians and the concertmaster of Early Music New York, the Providence Baroque Orchestra, and the Washington National Cathedral Orchestra. As an ordained minister in the Presbyterian Church (USA), he is interested in the intersection between arts and spirituality. When not traveling and performing, he splits his time between Willard, MO, where he pastors a church, and New Haven, CT, where he teaches early music at the Yale School of Music. He performs on various historical instruments and fosters ongoing collaborative research with luthier Karl Dennis (Warren, RI) and bowmaker David Hawthorne (Waltham, MA).
Isabelle Seula Lee, a New York City-based baroque and modern violinist performs regularly throughout the US and abroad. Lee is a new member of Philharmonia Baroque Orchestra and frequently appears with the New York Baroque Inc, Bach Collegium at Saint Peter's, Teatro Nuovo, Bach Collegium Japan, and others. As a soloist, she has performed under Rachel Podger, Lars Ulrik Mortensen, and toured throughout New Zealand with Masaaki Suzuki and Juilliard415. Lee began learning the violin at age of four in South Korea before moving to Russia, where she studied for ten years at the Special Music School of the Saint Petersburg Conservatory. At age of eleven, Lee appeared as a concerto soloist with the Tele-Radio Symphony Orchestra in Saint Petersburg. After moving to the States, Lee completed studies at Lynn University (BA), the Juilliard School (MM in violin and MM in historical performance), and the Yale School of Music (Artist Diploma).
Francis Liu specializes in exploring period interpretations of Baroque, Classical, and Romantic repertoire. Well-acquainted with the Northeast Corridor train line, he performs with ensembles in New York (NYBI), Boston (Handel & Haydn), Philadelphia (Tempesta di Mare) and Washington, DC (National Cathedral). In later Romantic repertoire, Francis has appeared with the Smithsonian Chamber Players, Teatro Nuovo, and the Transforming 19th Century (TCHIP) research project at the University of Oxford. Fond of story-telling, Francis has given interactive concerts at the Polish Consulate in NY, Metropolitan Museum of Art,, and NY Performing Arts Library. He has degrees from Rice University, the University of Maryland, and the Juilliard Historical Performance Program.
Vivian Mayers is a violinist and educator based in New York City. She specializes in the performance of early music, and is currently working toward a Master's degree in Historical Performance from The Juilliard School. Ms. Mayers studies under Cynthia Roberts and Elizabeth Blumenstock, and previously studied with the Sebastians' violinist Daniel Lee. Her recent appearances include performances with Juilliard415, the Valley of the Moon Music Festival, the Elm City Consort, and the Yale Baroque Opera Project. Ms. Mayers is a dedicated teacher and specializes in Suzuki violin pedagogy as well as individual English and writing instruction. She graduated from Yale University in 2021 with a Bachelor of Arts in History.
Maureen Murchie is acting concertmaster of the Bismarck-Mandan Symphony Orchestra, principal viola of Bach Akademie Charlotte, and a member of the Handel & Haydn Society. Recent engagements include Trinity Baroque Orchestra, NOVUS NY, Helicon, American Classical Orchestra, NYBI, El Mundo, Norfolk Chamber Music Festival, and the Broadway pits of Tootsie and Farinelli and the King. In December 2021 she performed the viola solo in Mozart's Sinfonia Concertante with violinist Aisslinn Nosky and the American Classical Orchestra at Alice Tully Hall. Maureen holds a doctorate from the University of Illinois at Urbana-Champaign, where she wrote a dissertation on the history of the Sendai Philharmonic Orchestra. Having grown up in Japan and attended Japanese schools through high school, Maureen is fluent in Japanese and in demand as a Japanese translator, interpreter, and editor. She works in the marketing department for eDiscovery and digital forensics firm HaystackID. maureenmurchie.com
Violist Rosemary Nelis has performed as chamber musician and soloist throughout the United States and Europe, sharing her ebullient, imaginative playing in work that spans the great standard repertoire, historical performance, and extensive collaboration with living composers. Nelis holds degrees in viola performance from Juilliard, where she was a proud recipient of a Kovner Fellowship, and Bard College Conservatory of Music; as well as a Bachelor of Arts degree in Chinese Language and Literature. Her teachers include Misha Amory, Ettore Causa, Cynthia Roberts, Roger Tapping, and Steven Tenenbom. Nelis has spent summers performing chamber music at Yellow Barn, Bard Music Festival, and Kneisel Hall, and in 2022 joined the faculty of the Kinhaven Music School. Ms. Nelis is a member of the New York-based Cassatt String Quartet.
Rebecca Nelson is a songwriter from Gera, Germany. Born into a family of classical musicians, she began practicing violin at age four and absorbed a healthy diet of Bach, Phil Collins, and Gillian Welch. After earning her Bachelor's at Rice University and a Master's at the University of Oklahoma, Rebecca diverged from her classical violin training, diving head first into the enchanting world of Historical Performance. Through her new love of baroque music and old love of folk and bluegrass, Rebecca found her voice as a composer. Since graduating from The Juilliard School's Historical Performance program, she has joined and founded exciting new ensembles including Nuova Pratica and Digital Camerata. Her debut album Do Not Lament will be released later this year. Aside from writing and performing music, Rebecca enjoys taking long naps with her cat, Momo, and salsa dancing.
Cullen O'Neil is a New York City-based cellist originally from Kalamazoo, MI. Performances have brought her across North America and Europe. In 2021 she was inducted as a Fellow of The English Concert in America and in 2022 became a member of Boston Baroque. Cullen is also a founding member of Quartet Salonnières, a New York-based historical quartet, Nuova Pratica, an ensemble of composer/performers, and Relic, a period chamber orchestra. Cullen graduated from The Juilliard School in 2021 with a master's degree in historical performance. Previously, she earned degrees in both cello and music theory from the University of Michigan, where she studied with Richard Aaron.
Violinist and violist Theresa Salomon has had her interpretations praised by The New York Times as "sizzling," the Washington Post as "virtuosic,"and the Frankfurter Allgemeine as "on the highest level." Playing baroque and modern violin, as well as viola, Theresa has a versatile musical career spanning many styles and configurations. She performs with many of the finest early music ensembles and festivals in North America. As an enthusiast of contemporary music she has premiered numerous works and appeared at festivals in Paris, Lisbon, Prague and Ostrava. Theresa is a member of the Orchestra of St. Luke's and has recorded music from Rosenmueller to Xenakis, as well as soundtracks to movies. She serves on the adjunct faculty of Montclair State University's John J. Cali School of Music.
Edson Scheid has been praised for his "polished playing" (The Strad), for being a "virtuoso violinist" (The Boston Globe) and a "violin virtuoso extraordinaire" (Fanfare). A native of Brazil, he is based in New York City. He performs on both modern and period instruments with many ensembles in the United States, and frequently tours in Europe, Asia, North and South America with such ensembles as Les Arts Florissants and Il Pomo d'Oro. His two recent album releases, Paganini 24 Caprices (Naxos) and On Paganini's Trail… H. W. Ernst and more (Centaur), have been critically acclaimed. He holds degrees from the Universität Mozarteum Salzburg, the Yale School of Music (recipient of the Broadus Erle Prize) and the Juilliard School (recipient of a Kovner Fellowship). edsonscheid.com
Hailed for his "scampering virtuosity" (American Record Guide) and "superb" playing (The New York Times), cellist Ezra Seltzer is the principal cellist of the Trinity Baroque Orchestra, New York Baroque Incorporated, and Early Music New York and a founding member of the Sebastians. He has frequently appeared as guest principal cellist of Musica Angelica and the St. Paul Chamber Orchestra, where he earned praise for his "delicate elegance and rambunctious spirit" (Twin Cities Pioneer Press). He attended Yale University, where he received his Bachelor of Arts in history and Master of Music in cello, and graduated from the inaugural class of Juilliard's historical performance program.
Australian violist Alissa Smith spent five years as the violist of the award-winning Canberra String Quartet, which included a two-year residency with the Emerson String Quartet at the Hartt School of Music. Her tenure with the Canberra String Quartet included appearances at the Park City, Aspen, Bravo! Colorado, and Steamboat Springs Music Festivals, as well as recitals at Carnegie Hall, the Isabella Stewart Gardner Museum in Boston, and the Berkshire Chamber Music Series. She continued her studies in New York City at the Juilliard School, where she served as a teaching fellow. A versatile freelancer, Alissa has appeared at the Ravinia Festival with the Knights Chamber Orchestra and toured Australia and North America with the Australian Chamber Orchestra. She has performed with the Orchestra of St. Luke's, Sarasota Opera, Klangforum Wien, and the American and Houston Symphony Orchestras. Chamber music appearances include the Costa Rican International Chamber Music Festival, Lincoln Center's Beethoven Festival, Carmel Bach Festival, and the Staunton Music Festival. International performances include the Sydney Festival with Lou Reed and the Istanbul International Jazz Festival supporting Antony and the Johnsons.
Jessica Troy wears a variety of freelance hats. Ensembles with which she regularly performs include: Philharmonia Baroque Orchestra, Trinity Baroque Orchestra, the Sebastians, New York Baroque Inc., Orchestra of St. Luke's, New York City Opera, Mostly Mozart Festival Orchestra, and Mark Morris Dance Group Music Ensemble. She can be heard on the Marlboro Festival's 50th anniversary CD in György Kurtág's Microludes for string quartet, which she prepared with the composer. She has subbed and had her own chair on numerous Broadway shows (ranging from Porgy & Bess to Tootsie) and played on many film scores (most recently Joker and Little Women). She has recorded quartet tracks for Lou Reed and Ani DiFranco, performed on tv with Renée Fleming and Whitney Houston, and on film with David Byrne.
Nathan Whittaker, violoncello, is the Artistic Director of Gallery Concerts (Seattle), and regularly performs with the Trinity Baroque Orchestra, Pacific Baroque Orchestra, New York Baroque Incorporated, ARTek, El Mundo, and the Fort Greene Chamber Music Society. Recent appearances include the Caramoor Music Festival, Vancouver Bach Festival, Pacific Baroque Festival, the Boston Early Music Festival, and as a guest lecturer at the Conservatoire National Supérieur de Paris. He can be heard on recordings by ATMA Musique, Harmonia, and Centaur, and live broadcasts by NPR, CBC, and KING FM. Dr. Whittaker holds a Doctorate of Musical Arts from the University of Washington and Bachelors and Masters degrees from Indiana University. He performs on a baroque cello of Johann Christian Ficker II from c. 1770.
Violinist Shelby Yamin brings signature vivacity to performances across the globe, from the historic state rooms of George Washington's Mount Vernon to the storied chapel at Versailles. Equally adept on modern and baroque violin, Shelby has appeared as a soloist with Voices of Music, Philharmonia Baroque Chamber Players, New York Baroque Incorporated, the San Francisco Academy Orchestra, Tafelmusik Winter Institute, and as guest concertmaster of the 2019 Berwick Academy of the Oregon Bach Festival. Also an active chamber musician, she regularly collaborates with a wide range of New York based ensembles and Cleveland's Les Délices. Dedicated to diversifying the canon, Shelby regularly researches, performs, and records lesser known works, including 18th-century repertoire from the music library of Nelly Custis and, more recently, the violin duets of Maddalena Lombardini Sirmen (1745-1818). Shelby's discography includes the first ever recording of Sirmen's entire opus of violin duets on period instruments (Orpheus Classical Label, 2021) and a forthcoming album on Paladino Records of contemporary music for harpsichord, violin, and flute. Shelby has earned degrees from the Manhattan School of Music, the San Francisco Conservatory of Music, and The Juilliard School, where she won the Historical Performance Concerto Competition. In addition to her active performance and teaching career, Shelby is the Associate Producer of SalonEra, an online webseries that blends conversation and performances from a diverse slate of early music musicians, and is currently Artist-in-Residence at The Church of St. John the Evangelist in San Francisco, CA, curating and presenting monthly recitals. She resides in New York City.
Wen Yang plays double bass and viola da gamba, and has earned praise both for her "angelically played" solos (Charleston Today) and for "knocking people off their seats" (Sarasota Herald-Tribune). She enjoys being a freelance musician, and has performed with musicians including William Christie, Jordi Savall, Masaaki Suzuki, Monica Huggett, Ton Koopman, and Richard Egarr. Wen is the founder and Artistic Director of New York Baroque Incorporated (NYBaroque.org), a period-instrument orchestra that has been called "truly excellent" and "studded with stars in the making" by The New York Times. An alum of the Juilliard School and Yale School of Music, Wen studied viola da gamba with Sarah Cunningham, and double bass with Don Palma, Timothy Cobb and Robert Nairn. She can also be found cooking, and living in New York City with her husband, cellist Ezra, daughter Pepper, and two tuxedo cats, Ollie and Mimi.
Jude Ziliak is active across the United States as a baroque violinist, ensemble leader, and educator. He is the first violinist of Sonnambula, the first period ensemble in residence at The Metropolitan Museum of Art, and a member of the American Bach Soloists, with whom he frequently appears as soloist or concertmaster. A graduate of the Historical Performance Program at The Juilliard School, Ziliak founded and directs the Baroque Orchestra at Special Music School, New York's K-12 public school for musically gifted children, and he serves as Program Director for the annual Clarion Collegium Week workshop. Ziliak grew up on the Cumberland Plateau in Sewanee, TN, and makes his home in Manhattan with his wife, musicologist Elizabeth Weinfield, and their young son.