This concert celebrates the 400th birthday of Jean de La Fontaine, the French poet best known for his fables, and all art that evokes a story—music and spoken text that tells a story, or even just reminds us of the magic of storytelling.
Featuring poetry and stories intermixed with music by Telemann, Couperin, Rebel, and others.
Guest Artist: Sagan Chen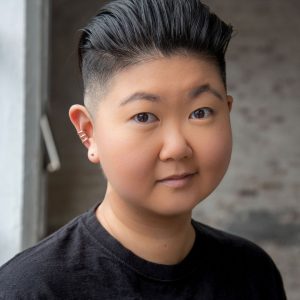 Sagan Chen is an award-winning actor, filmmaker, and theatre artist, and thrilled to be joining the Sebastians for this concert! As a queer nonbinary Chinese-American, they strive for their artistry to reflect an awareness of social responsibility and intersectionality of representation. Onstage: Two Mile Hollow (Yale), Six Years Old, Stone, and delicacy of a puffin heart (Corkscrew Theater Festival), Something for the Fish (CPR), Exposed Bone (The PIT). Onscreen: High Maintenance, Here We Wait and Sideways Smile. Directing: Dartmouth College, festivals: Samuel French OOB, Frigid, Corkscrew, Women in Theatre. Narrator of Ana On The Edge. Team at Gersh and Mosaic. Education: Dartmouth College, LAMDA, BLCU. diane-chen.com IG: @sagan.chen
Program
Jean-Féry Rebel (1666–1747)
Les caractères de la danse (1715)
François Couperin (1668–1733)
Le Parnasse ou l'Apothéose de Corelli, grande sonade en trio from Les goüts-réünis (Paris, 1724)
Georg Philipp Telemann (1681–1767)
Suite for two violins, "Gulliver's Travels," TWV 40:108
Heinrich Ignaz Franz von Biber (1644–1704)
Battalia (1673)
Johann Jakob Froberger (1616–67)
Tombeau fait à Paris sur la mort de M. Blancheroche
Robert Honstein (b. 1980)
Barcarolle, from Night Scenes from the Ospedale (2011)
Antonio Vivaldi (1678–1741)
Concerto in A minor, RV 522, op. 3, no. 8 for two violins, strings, and basso continuo
Performers
Safety and COVID-19
We are planning a safe return to the concert hall, following all local and CDC guidelines, and will continue to monitor local conditions as concert dates grow near. All performers will be vaccinated, and we will also require all audience members to provide proof of vaccination (with a vaccine card, photo of a card, New York State Excelsior Pass, or the NYC Covid Safe app). We will communicate our protocols clearly at least two weeks before each concert. These may include requiring the audience and/or performers to be masked inside the venue, distancing between audience members and/or between the audience and performers, or limiting the number of concert attendees if necessary.
By purchasing a ticket and attending a concert, you acknowledge that despite all reasonable precautions, there are risks in attending live musical events and you agree to accept those risks yourself. You release the Sebastians (legally, Sebastian Chamber Players, Inc.) from any claims based on your attendance of one of our concerts. Your in-person concert ticket grants you access to the virtual concert experience—available shortly after the performance. If you have any questions or need assistance, we are always reachable at music@sebastians.org.