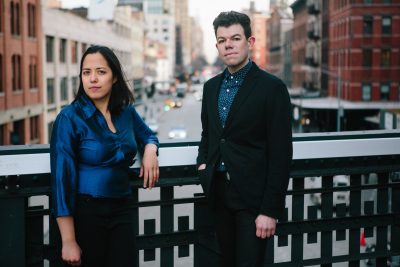 New meets old with New Morse Code, the genre-bending and "remarkably inventive" (Gramophone) duo of cellist Hannah Collins and percussionist Michael Compitello.
In addition to their reputations and grand interpreters of new music, both Hannah and Michael are accomplished baroque musicians, and for this fresh program with the Sebastians we crafted a journey through time, interweaving baroque music from the stylus fantasticus—the new music of the seventeenth century—with new music of the twentieth and twenty-first centuries.
Program
Baroque works by Dario Castello, Giovanni Battista Fontata, Diego Ortiz, Giovanni Antonio Pandolfi, and more.
Contemporary works by Caroline Shaw, Matthew Barnson, Astor Pantaleón Piazzolla, and Elliot Cole.
Performers
Daniel Lee and Nicholas DiEugenio, violin
Jeffrey Grossman, harpsichord
Adam Cockerham, theorbo and guitar

with
New Morse Code
Hannah Collins, cello
Michael Compitello, percussion
Safety and COVID-19
All our staff and musicians are fully vaccinated. We require proof of vaccination to attend our concerts in person. Your proof can be a photo or copy of your CDC vaccination card, the New York State Excelsior Pass or Excelsior Pass Plus, or any similar official vaccination record. You can bring your proof of vaccination in person or email it to music@sebastians.org in advance if you like.
We ask that audience members please wear a face mask covering your nose and mouth while inside the building. If you do not have a mask, we can provide one. Performers—all vaccinated and tested multiple times throughout the week—may unmask while performing.
By purchasing a ticket and attending a concert, you acknowledge that despite all reasonable precautions, there are risks in attending live musical events and you agree to accept those risks yourself. You release the Sebastians (legally, Sebastian Chamber Players, Inc.) from any claims based on your attendance of one of our concerts.
Your in-person concert ticket also grants you access to the virtual concert experience—available a few weeks after the performance. If you are not feeling well, have been recently exposed to COVID-19, or have recently tested positive for COVID-19, please stay home and rest. If you have any questions or need assistance, we are always reachable at music@sebastians.org.