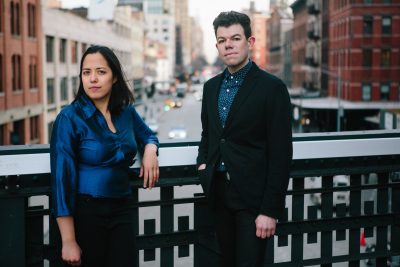 New meets old with New Morse Code, the genre-bending and "remarkably inventive" (Gramophone) duo of cellist Hannah Collins and percussionist Michael Compitello.
In addition to their reputations and grand interpreters of new music, both Hannah and Michael are accomplished baroque musicians, and for this fresh program with the Sebastians we crafted a journey through time, interweaving baroque music from the stylus fantasticus—the new music of the seventeenth century—with new music of the twentieth and twenty-first centuries.
Program
Baroque music by Castello, Fontana, Sanz, Merula, and others
Contemporary music by Piazzolla and others
Performers
Daniel Lee and Nicholas DiEugenio, violin
Jeffrey Grossman, harpsichord
Adam Cockerham, theorbo and guitar

with
New Morse Code
Hannah Collins, cello
Michael Compitello, percussion
Safety and COVID-19
The safety of our performers, staff, and audience are of the utmost importance to us. As the COVID-19 pandemic continues to evolve, we will closely monitor local conditions as concerts date draw near. We reserve the right to require proof of vaccionation, masking, and distance inside the concert hall. We will announce our safety procedures for each concert in advance of the performance date.
By purchasing a ticket and attending a concert, you acknowledge that despite all reasonable precautions, there are risks in attending live musical events and you agree to accept those risks yourself. You release the Sebastians (legally, Sebastian Chamber Players, Inc.) from any claims based on your attendance of one of our concerts. Your in-person concert ticket grants you access to the virtual concert experience—available shortly after the performance. If you have any questions or need assistance, we are always reachable at music@sebastians.org.