This exquisite collaboration between the Sebastians and choreographer Christopher Caines will take your breath away—enjoy the most beautiful movement and music together, with the Christopher Caines Dance in dance suites by Bach and his French contemporaries.
Seating is limited for this special event!
Wine reception to follow each performance.
Choreographed in the round by Christopher Caines with a stunning new lighting plot and lighting designs by Philip Sandström, this is sure to be an unmissable artistic experience. Book your tickets now and stay tuned for more information about this thrilling project, interviews with the artists, and more.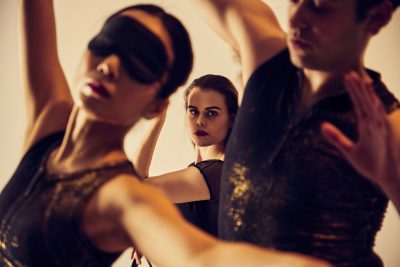 Christopher Caines Dancers Mayu Oguri, Silken Kelly, & Jacob Taylor in
listen out loud / move to keep things whole
(2019), costumes by Gregory Gale, photo by Whitney Browne
"Real, honest-to-goodness dances … dance-making drenched in intuitive musicality and cultivated musicianship … a feast." The New Republic reviewing Christopher Caines Dance
Program
French composite suite including music by Couperin, Rameau, and others
J.S. Bach (1685–1750)
Cello Suite no. 6 in D major, BWV 1012, for violoncello (da spalla), with dancers
J.S. Bach
English Suite no. 5 in E minor, BWV 810 for harpsichord, with dancers
J.S. Bach
Orchestral Suite no. 2 in B minor, BWV 1067 for flute, strings, and continuo, with dancers