Bach: The Complete Violin & Harpsichord
Saturday, November 10, 2018, 3pm
Harlem Parish (map)
258 West 118th Street (at St. Nicholas Avenue)
New York, NY, 10026
Steps from the B/C and 2/3 trains at 116th street
Honoring Our Namesake
The Sebastians present the complete sonatas for violin and obbligato harpsichord by Johann Sebastian Bach—these six sonatas are not only finely crafted, intricate, and beautiful pieces, but represent a historically important step in the development of the keyboard in chamber music. As Bach did in his fifth Brandenburg Concerto, the harpsichord steps out from behind its familiar "continuo" role and becomes an equal partner to the violin in these pieces.
Includes a wine and cheese reception between the halves of this special marathon performance.
Debuting a New Venue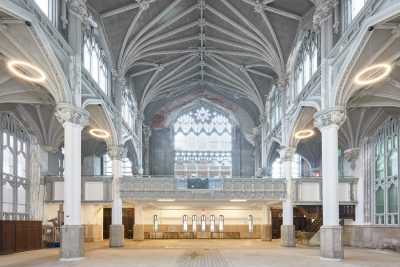 This special duo recital will take place in an equally special space: Harlem Parish (formerly St. Thomas the Apostle) on West 118th Street. Built in 1897, the neo-Gothic church boasts exquisite architecture and was recently rescued from demolition, restored, and re-opened as a community arts venue. This intimate concert marks the first ever classical performance in the space.
Celebrating the Violin
The sonatas span a remarkable variety of texture and mood—his son Carl Philipp Emanuel considered them "among the best works of my dear departed father. They still sound excellent and give me much joy, although they date back more than fifty years. They contain some Adagii that could not be written in a more singable manner today." Join Daniel S. Lee and Jeffrey Grossman on November 10 for the chance to hear these pieces in one sitting!
Join us on February 23, 2019, to hear Nicholas DiEugenio and Jeffrey Grossman complete the circle of Bach's music for violin and harpsichord!
Sebastians Students
Students of any age can attend this concert for free; simply come to the door and show your student ID card.
Music Is for All
We work hard to keep our ticket prices low; but they may still be out of reach for some. If you would like to attend this concert but cannot afford a ticket, please email music@sebastians.org to request a community comp ticket. (Availability is limited.) Let's share this music together!
---
Johann Sebastian Bach
Sonata for violin and harpsichord in B minor, BWV 1014 Sonata for violin and harpsichord in A major, BWV 1015 Sonata for violin and harpsichord in E major, BWV 1016 Sonata for violin and harpsichord in C minor, BWV 1017 Sonata for violin and harpsichord in F minor, BWV 1018 Sonata for violin and harpsichord in G major, BWV 1019